Green Mountain Grills pellet grills are now the top-of-the-line, the best-of-the-best, and are not the highest in price! They only offer the highest quality grills, dry rubs, sauces, and pellets for our grills, so that customers can enjoy the best possible grilling experience without breaking the bank! They take pride in our local brick & mortar retailers because they help keep our grills and accessories accessible and affordable! With thousands of locations across the U.S., go see one of our grills, in person, today!
How It Works...
The GMG Difference
How a Pellet Grill Works
The digital controller controls the internal temperature by managing pellet flow.
A motor turns the auger which feeds pellets, into the Firebox
A hot rod in the firebox ignites the pellets and a combustion fan keeps them burning
A fan inside the pellet hopper maintains positive presure, preventing burn-back in the hopper
When they meet, these two air flows create the ultimate wood-burning fire, circulating pure hardwood smoke throughout the grill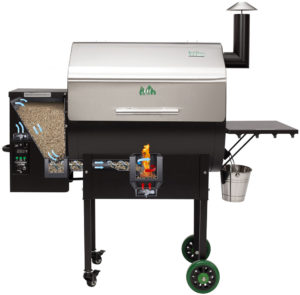 STAINLESS STEEL
Heat Distribution
The Heat Shield* that covers the Firebox distributes the heat to both sides of the grill and flows up through the Open Flame Grease Trays and into the convection-style grill chamber. A sensor mounted inside the grill sends data to the on-board computer ten times every second, and the controller adjusts the air and pellet flow to maintian the temperature you set.
*Heat Shield styles and positionsing vary between the different grill models.