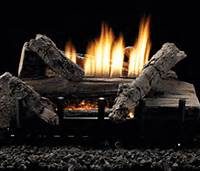 Whiskey River Vent Free Indoor Burner with Log Sets
This log set / burner combo features ultra – realistic, chunky logs with loads of hand painted detail. The Whiskey River set delivers rich warmth and bold looks to complement any style.
Manual
18″ Set – Retail: $538.00 SALE: $376.60
24″ Set – Retail: $559.00 SALE: $391.30
Millivolt – 10,000
18″ Set – Retail: $680.00 SALE: $476.00
24″ Set – Retail: $696.00 SALE: $487.20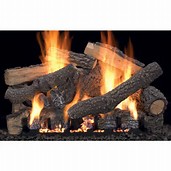 White Mountain Hearth 18″ Ponderosa Log Set
Includes 13 logs for long lasting beauty in your fireplace. The Ponderosa log set is a large set that will stack nicely on an Empire Slope Glaze burner. And it will look great in a 32 inch firebox without getting lost. The logs are carefully crafted to provide you with a realistic looking fire and burn pattern with flickering flames coming up through the stack. Unlike a wood fire the vent-free logs generate consistent, controlled heat without flare-ups or die-downs.
Retail: $227.00
SALE: $158.90